New Mens & Womens Shoes!
Overkill Pro Shop is the best place to buy tennis shoes in Jackson, Mississippi! We carry all the best court shoe brands, so you're sure to find the perfect pair of shoes to step up your game. Whether you're looking for extra support, more breathability, or just a stylish new pair of shoes for tennis, we've got you covered. Our knowledgeable staff can help you find the right shoes for your feet and your playing style so that you can perform your best out on the court. Plus, our competitive prices and friendly service can't be beat! So take a step in the right direction and come on in to check out our great selection of tennis court shoes on sale today!
When it comes to playing tennis, having the right shoes can make all the difference. Court shoes for tennis are designed to provide traction and stability on hard surfaces, which is essential for making quick starts, stops, and turns. Shoes designed for tennis players also have a reinforced toe to protect against impact and they feature additional support around the ankles to prevent rolling. At the same time, tennis court shoes need to be lightweight and offer breathability and durability. All court tennis shoes are a vital part of your game and you'll want to choose a pair from the best. Overkil Pro Shop consistently stocks the best tennis shoe brands, including:


Head
Fila
K Swiss
Wilson
Nike
Asics
Diodora
Brooks
Yonex
Babolot

And more! 
Best Court Shoes for Playing Tennis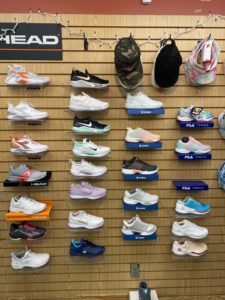 At Overkil Pro Shop, our knowledgeable staff is always happy to help you find the right fit and the right shoes for your game. Our team will assess your particular needs and explain how to choose shoes for tennis. Let's explore a little right now!
The most important part of selecting the best court shoes for tennis is to know your feet and your game! It starts with determining if your feet are pronated, supinated, or ideal. Pronated feet show wear in shoes around the ball of the foot and the inside of the sole and tend to injure more easily, so you'll want to focus on shoes with support and cushioning. Supinated feet show wear in shoes along the outside of the heel, wearing these areas out quickly, so you'll want to choose shoes with the most durable soles. Ideal feet show even wearing which means you can select whatever pair is most comfortable for you! Women tend to have higher arches than men, so good arch support is a must.
Tennis Clay Court Shoes for Sale Near Me
When choosing the right tennis court shoe for you, consider the type of surface you play on most often. If you frequently play on clay courts, look for shoes with a herringbone tread pattern for grip with tight upper portions and durable sides. Grass players will want shoes with a flat outsole, flexible sides, and good traction. Hard courts will require a shallower tread pattern, a durable upper with a tough outsole, and plenty of cushioning to absorb some of the shock from the hard surface. 
Also, think about your personal style of play. If you're an aggressive player who likes to take charge of the court, look for tennis shoes with more support and stability. If you're more of a baseline player who relies on speed and agility, choose a lighter and more flexible shoe. 
Swing on by Overkil Pro Shop today where our experienced staff is waiting to help you choose the perfect pair of court shoes! We'll share our expertise on the best shoes for playing tennis, including specifics such as the best tennis shoe brands, the best tennis shoes for beginners, best tennis shoes for support, best shoes for tennis women's, best shoes for tennis men's, best tennis shoes for hard courts, the best tennis shoe sole patterns for mobility, and so much more! We look forward to seeing you!