Looking for a new tennis bag? Overkil Tennis Pro Shop is the best place to buy a new tennis bag. Whether you're looking for a small bag to carry just your racket and a few balls, or a larger bag that can hold multiple rackets and all your gear, we have what you need. We carry all the top tennis bag brands at great prices. And if you're not sure which bag is right for you, our friendly and knowledgeable staff are always here to help. If you are searching for a wide selection of tennis balls and accessories like grips and strings, we have those too. Whether you're looking for a new tennis bag or accessories for yourself or a gift for someone special, Overkil Tennis Pro Shop in Jackson is the perfect place to start your search.
Best Tennis Bag Brands Near Me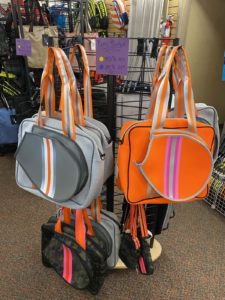 Any tennis player worth their salt knows that having the best gear is an essential part of performing at your best. And while a lot of attention is paid to things like rackets and shoes, it's important to remember that having a great bag to safely carry all your gear is also important. After all, you need to be able to transport your rackets, balls, water bottles, sunscreen, sunglasses, clothes, and other essentials to and from the court.
Overkil consistently carries the best tennis bags on the market, so you can find the perfect one for your needs. From large bags that can hold everything you need for a weekend tournament to smaller bags that are ideal for carrying just a few essentials for a day on the court, we've got you covered. Whether you're looking for style, function, or a bit of both, you're sure to find the ideal tennis bag from our inventory. We have:
Maggie Mather tennis bags
What Type of Tennis Bag Should I Get?
Since there are many different types and styles of tennis bags on the market, you may be wondering how to choose the best tennis bag and what makes a good tennis bag. A few things to consider include:
The size of the bag. You'll want to make sure that the bag is large enough to fit all of your gear, including your racket, balls, extra clothes, and so forth, yet you don't want a bag that's too bulky or cumbersome to carry easily. Smaller tennis bags include tennis backpacks or tennis tote bags. Medium to larger sized bags include tennis duffel bags, 6 racket tennis bags, 9 racket bags, 12+ racket bags, or competition bags. 

Carrying style. You may choose backpacks, shoulder bags, and duffel bags. If you travel frequently, you may want a bag with wheels or a strap that can be easily attached to rolling luggage.

The type of material. Tennis bags are usually made from either leather or synthetic materials. Leather is more durable but also more expensive, while synthetic materials are usually more affordable but not as durable. 

The features. Some fantastic additional features you may want to look for include insulated water compartments, padded racket sections, hard shelled protective compartments, shoe compartments, ventilated sections for sweaty clothing or towels, or hidden pockets for money, ID, or other items. Consider what features would be most useful for you and choose a bag accordingly. 

And finally, don't forget about style! Choose a bag that reflects your personality and makes you feel good when you hit the court. 


By keeping these factors in mind, you'll be sure to choose the perfect tennis bag for your needs! When you're looking for bags or any tennis gear, come to Overkil Pro Shop and find the ideal traveling companion!