Best Tennis Brands
The right tennis gear can make all the difference in your performance on the court. From comfortable clothing that allows for airflow and ease of movement, to shoes that grip the court just right, to a racket that allows you to serve with precision, and a great bag to organize it all, choosing the best tennis brands is key. And yet there are so many tennis brands and products on the market that the process of selecting the best tennis gear can be overwhelming! That's why we're here to help. The tennis pros at Overkil Pro Shop in Jackson, MS have compiled a list of the best big tennis brands you need to know about. Let's dive in to discover the brands that will take your game to the next level in every aspect, from apparel and footwear to rackets and bags.
Top Brands for Tennis Gear
Nike Tennis Clothing & Shoes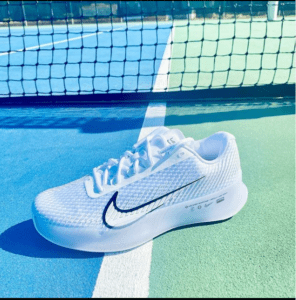 Nike is a leading brand in the world of athletic gear, and their tennis apparel and shoes are no exception. Nike tennis gear is designed with the tennis player at the forefront, so the focus is on comfort and performance. Their tennis shoes to play tennis are known for their durability, comfort, and grip on the court. Their tennis clothing offers key features such as moisture wicking to keep you cool and dry during intense matches, aptly placed pockets, and non-restrictive designs. With a vast range of tennis clothing and court shoe options for men and women alike, Nike is a tennis clothing brand that delivers on quality.
Tennis Equipment by Wilson
Wilson has been a long-time staple in the tennis world, particularly when it comes to tennis equipment. They make some of the best tennis rackets on the market, all focused on comfort and performance with an emphasis on innovation and technology. Wilson tennis gear has been used by tennis greats the likes of Federer and Sampras. They also make high-quality tennis bags, balls, shoes, strings, and more.
Babolat Tennis Gear
Babolat is a brand that has become synonymous with tennis bags and rackets for good reason. Their bags are durable, spacious, and offer specialized features such as cooling pockets and clothing compartments to keep your equipment organized. They come in a range of types, sizes, styles, and bright colors to meet your specific needs. Babolat rackets for sale are top-of-the-line and are exceptional for players of all levels. They also offer a wide range of other quality tennis gear and accessories.
Adidas Court Shoes & Tennis Attire
Adidas is another brand that is known for producing high-quality athletic gear, including high-performance tennis shoes and clothing. Adidas court shoes for tennis are designed specifically for tennis players to provide great traction and support on the court. Their shoes also feature extra cushioning and added lateral support. Besides fantastic shoes, Adidas tennis clothing is both comfortable and stylish on the court.
Head Tennis Rackets
Head is a brand that caters to both professional and recreational players. Head is known for its Graphene Touch technology in their rackets which offer enhanced stability and power. Tennis rackets by Head are the perfect choice for players looking for greater levels of control and speed.
Yonex Tennis Bags & Rackets
Yonex has been making the rounds on tennis courts around the world with its authentic designs and high-quality products. Tennis players of every level love their rackets for maximum power and control on the court. Many players also trust tennis backpacks and multi-racket duffel bags from Yonex. Their premium tennis bags are popular because of their various compartments including cooler packs for players to keep their drinks fresh during matches, wet and dry clothing pockets, and phone/wallet pockets, to name a few.
Best Tennis Store Jackson, MS
When it comes time to find new tennis clothes, a killer pair of tennis court shoes, or have questions about the best tennis rackets brands, visit Overkil Pro Shop! We have all the brands mentioned above and MORE! We're located in Parham Bridges and we're here to help you elevate your game!