Best Tennis Apparel for Women
Finding the perfect tennis outfit can be challenging! As tennis players ourselves, our team at Overkil Pro Shop are experts in tennis gear. We know that women's tennis attire needs to be comfortable and functional, yet we all want a little style too! That's why you should visit Overkil Pro Shop for your everyday tennis wear needs.
Best Selection of Women's Tennis Clothes in Jackson, MS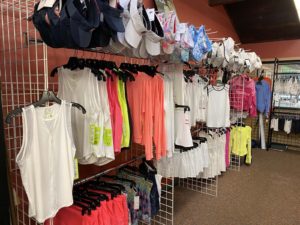 Get ready to play with the right women's tennis wear! All the ladies tennis clothing you could possibly want is available in one nearby location at Overkil Pro Shop.
Tennis Tops & Bottoms in Every Style
Whether you're looking for tank tops, compression shorts, leggings, women's tennis shirts, skorts, shorts, or the cutest tennis skirts, Overkil Pro Shop has it all. We carefully select a range of fashionable tennis styles and colors to help you find exactly what suits your functional needs and personality on the court.
The Perfect Fit
When purchasing tennis clothing for women, we know how important it is to be able to experience the fabrics, test your movement in the clothing, and find the perfect fit. That is exactly why we have hand-picked the best women's tennis clothing brands which all feature high-quality fabrics and craftsmanship. Any clothing we offer is specifically designed for tennis and will fit perfectly and move with you while playing. Whether you need a lightweight tennis top for women or shorts that won't restrict your movement, everything in our collection is designed with comfort and performance in mind. The best part? You don't have to sacrifice style either because all our selections look effortlessly chic on the court and off.
Ladies' Tennis Gear Performance Features
At Overkil Pro Shop, we believe that quality matters so we only select the highest-rated tennis gear brands. From moisture-wicking fabric for extra breathability during long matches to UPF protection against harmful UV rays, every piece you'll find at Overkill Pro Shop is built with performance features. We know the value of staying comfortable to play your best game ever. Many items in our collection feature anti-odor technology that helps wick away sweat and keep odors at bay no matter how hard you play!
Tennis Accessories Galore
We don't just carry clothing at Overkil Pro Shop; we also stock up an array of accessories that will complete your look and make those long days on the court a lot more comfortable. From headbands and hats to sweatbands and socks you can find everything you need here! That includes all the best tennis bags for women, court shoes for ladies, top women's tennis rackets, and much more!
Women's Tennis Fashion Near Me
The tennis clothes brands in our selection change from time to time but we consistently carry:
Fila
K Swiss
Wilson
Nike
Under Armour
Luxilon
Asics
Diodora
Brooks
Ame and Lulu
Haute Store
Glove It
Maggie Mather
Free People Movement
Lucky in Love
And more!
If you're looking for quality tennis clothes for ladies, look no further than Overkil Pro Shop! Our team strives to provide the best possible selection of high-performance women's tennis outfits at competitive prices together with outstanding customer service. We have everything you need to look stylish and feel comfortable on the court – from shoes and socks to shirts and skirts – all at unbeatable prices. Overkill Pro Shop should be your go-to destination when it comes time to stock up on new everyday tennis wear for sale in Jackson, Mississippi. Get ready to perform your best while looking fantastic!