We carry the following brands:
Yonex tennis rackets
Volkl tennis rackets
Head tennis rackets
Wilson tennis rackets

More! 
Best Tennis Racket Brands for Sale Jackson MS
If you've ever stepped onto a tennis court, you know that having the right tennis racket can make or break your game. A tennis racket is not only a tool but an extension of your game; it's what allows you to put spin on the ball, control your shots, and power a winning point. That's why it's so important to find a tennis racket that fits your playing style. Are you a power player? You'll need a heavier racket with a large sweet spot. A control player? You'll want a lighter racket with more precision. It's no wonder the pros search far and wide for the perfect racket to enhance their game, and your search for the ideal racket should be no less! Some of the most popular tennis racket brands that you'll find for sale at Overkil include Yonex, Volkl, Head, Wilson & more…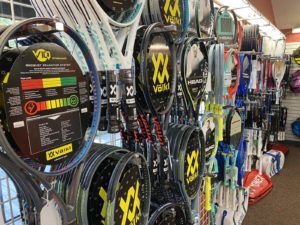 If you're looking for a new tennis racket, Overkil Tennis Pro Shop at Parham Bridges should be your first stop! We are the leading tennis shop in the greater Jackson area which means that our selection of tennis rackets from the top brands is unrivaled! Our knowledgeable team can assist you in finding the perfect racket for your playing style, in addition to offering services such as stringing and grip replacement to keep your racket in prime performance condition. Once you've found the right tennis racket from Overkil, you'll be ready to take your game to the next level. What are you waiting for? Swing on by and find your perfect match!
How to Choose a Tennis Racket
When it comes to playing your best match, having the right equipment can make all the difference and there is no one-size-fits-all solution. There are many factors to consider when choosing a tennis racket, such as weight, material, head size, and grip size. If you choose a racket that is too heavy, you will tire yourself out quickly. If you choose a racket that is too light, you will not have enough power behind your swings. The material of the racket also matters; graphite rackets are lighter and offer more power, while aluminum rackets are a little heavier and offer more control. Head size and grip size also affect your game; a larger head size gives you more power but less control, while a smaller head size gives you more control but less power. A grip that is too small or big also can tank your game, as well as the grip material. Ultimately, it is up to you to decide which type of racket is right for you but don't worry if this seems daunting because Overkil Pro Shop is here to help! 
In addition to the above factors, there are a few more aspects to keep in mind. First, think about your level of play. Are you a beginner who is just starting out? Or are you a more advanced player who is looking for a competitive edge? There are tennis rackets designed for all levels of play, so it's important to choose one that's appropriate for your skill level. Second, consider your playing style. Are you someone who likes to stay at the baseline and hit forceful strokes? Or do you prefer to come up to the net and put away volleys? If you are an aggressive player, you will want a racket with a larger sweet spot. This will help you to generate more power and spin on your shots. However, if you are a defensive player who relies on precision and placement, you will want a smaller racket head to help increase accuracy. Additionally, the weight and balance of the racket are important. A heavier racket can be more difficult to swing but it will also generate more power. A lighter racket will be easier to swing but may cause you to sacrifice some power. In the end, the best tennis racket for you is the one that feels comfortable and gives you the results you are looking for.
Tennis Rackets for Sale Near Me
Some of the best tennis racket brands that you can find for sale near you include Wilson, Head, Babolat, Yonex, and Prince, to name a few. These brands are known for their quality and performance. They also offer a wide range of options for different playing styles. If you are looking for a tennis racket that offers power and control, then you may want to consider Wilson or Head. If you want a lighter racket that is easy to maneuver, then Volkl or Yonex would be a good option for you. Overkil has a wide range of rackets for all players including junior tennis rackets, adult tennis rackets, tennis rackets for beginners, tennis rackets for intermediate players, tennis rackets for advanced players, and more! When it comes time to buy a new tennis racket, come to Overkil Pro Shop at Parham Bridges in Jackson and we'll help you find the perfect fit!